6 to 10 Watt LED Helios D (Dimmable)
Click 6852-P04-CR5E27 to download the data sheet.
The Helios is the ideal LED replacement for conventional incandescent and CFL lights. U-Tron's innovative design uses high power Cree LEDs to bring energy savings to your home or office. The Helios is the perfect solution for general lighting applications
Do you like to make your own LED light bulbs?
Try our DIY kits. You can download all the instructions here: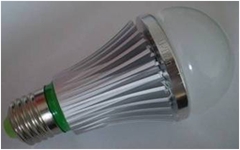 Model No.

Product Name

CCT

Lumens

Efficacy

Watt

Description

Container Quantity

Helios-D 4 E27

Warm White

428

77.81

6W

Number of LED: 5 Cree Chips Input Voltage: Universal IP54

20': 500 cartons 40':1030 cartons (100 pcs per carton)

Cool White

556

101

6W

Helios-D 6 E27

Warm White

642

85.6

7.5W

Number of LED: 6 Cree Chips Input Voltage: Universal Power Consumption: 7.5W IP54

20': 500 cartons 40':1000 cartons (100 pcs per carton)

Cool White

834

111.2

7.5W

6852-P08-WQ5E27S

Helios D 3 E27

Warm White

844

84.47

10

Number of LED: 8 Cree Chips Input Voltage: Universal IP54

20': 500 cartons 40':1000 cartons (100 pcs per carton)

6852-P08-CR5E27S

Cool White

1090

109

10